I am using EdrawMind. I will introduce it with many screenshot images.
When is EdrawMind's sale?About EdrawMind's lowest price
EdrawMind should buy the permanent version when it is on sale.
EdrawMind has sales on Black Friday, Christmas, New Year's, Valentine's Day, Graduation, and New Life. Sales are held for every seasonal event in spring, summer, fall, and winter, but even if you coincide with a seasonal event, you will not get the product at an extremely low price. If you miss a sale, you may have to wait several weeks.
When the price is down, you have a chance to get EdrawMind.
First, we recommend installing the trial version; the free version of EdrawMind has no feature limitations.EdrawMind also recommends a plan for teams, because it offers a one-time payment plan.
EdrawMind
EdrawMind can be purchased as a set with EdrawMax software. EdrawMax has similar functionality to Visio and is inexpensive for flowcharting software.
Edraw Max – All-in-One Diagram Software
Edraw Infographic
スポンサーリンク
Overview of the EdrawMind buyout version
The Mac, Windows, Linux, Android, and Web versions of EdrawMind are buy-in versions (as a reminder, iPad and iPhone are separate apps. These are 6-month subscriptions)
Switchable between Outliner and Mind Map.
Outliner mode can be switched by drag & drop in order
Mind Map layouts can be changed with the touch of a button.
Mind Map can also specify icons (you can import your original icons by image)
Mind Map allows you to change the shape of the branches and the place to put letters.
Only the paid version can be specified in rainbow colors. Many color charts are available.
You can specify RGB colors! You can specify your favorite colors.
Gradation can be specified.
You can copy and paste the text into multiple topics, which can then be converted into a mind map.
Imports from MindManager, XMind, FreeMind, EDrawMax (flowcharting software), Word, Html, and markdown. It is also easy to switch from other software because it supports XMind and FreeMind.
Export to Png, Jpeg, SVG, PDF, Office, Html, MindMnneger, etc.
You can choose any font you like because it is an installable software. If you have design fonts in it, you can create stylish mind maps.
EdrawMind also has a cloud version and can be shared with many people.
EdrawMind
スポンサーリンク
Install EdrawMind
We recommend using EdraMind first.
At the top of the screen [Download] > Download the os you are using.
To install, simply tap the exe file. It is easy as there is no customization.
EdrawMind
スポンサーリンク
Multiple devices and licenses for EdrawMind!
8. What is device management? How to manage the devices under my account?

One account can be used on 2 PCs and 3 mobile devices. Once you have logged in to the maximum number of devices, you cannot log in to other devices. At this point, you can use the easy device management function to delete unused device(s) from your account, and then you can log in to the new device to continue to use.

https://www.edrawmind.com/pricing.html
It seems to work fine on Mac and Windows. However, please note that iPad and iPhone are for a separate app subscription. There is an online version available, though, so it shouldn't be that much of a problem.
EdrawMind
スポンサーリンク
EdrawMind Corporate Plans
EdrawMind's version for teams is also a perpetual buyout. Contact Wondershare if you are concerned.
EdrawMind
Limitations of the EdrawMind Free Version! Differences between the free and paid versions
The free version is limited to adding up to 100 topics.
Exporting is not possible; Html and SVG output is limited; PNG and other images can be exported but will be watermarked.
The color settings on the page styles tab are not available.
You cannot use the colors of the rainbow, complementary colors, or alternating colors. There is also a handwriting style, but it is not available. This is a pity for those who want to elaborate on the design.
The security feature to put a password on the page is also not available.
EdrawMind is not that expensive and should be purchased during sale times.
EdrawMind
Duration of free version of EdrawMind
EdrawMind probably doesn't have a set period of time for the free version. I used the free version for quite a long time there and it was not restricted.
If you have been using EdrawMind for a long time, it is bad and you should buy it when it is on sale. No more restrictions on exporting and you can do rainbow color schemes.
Review the benefits of EdrawMind
EdrawMind is easy to migrate from other mind mapping software!
Import is supported in many formats.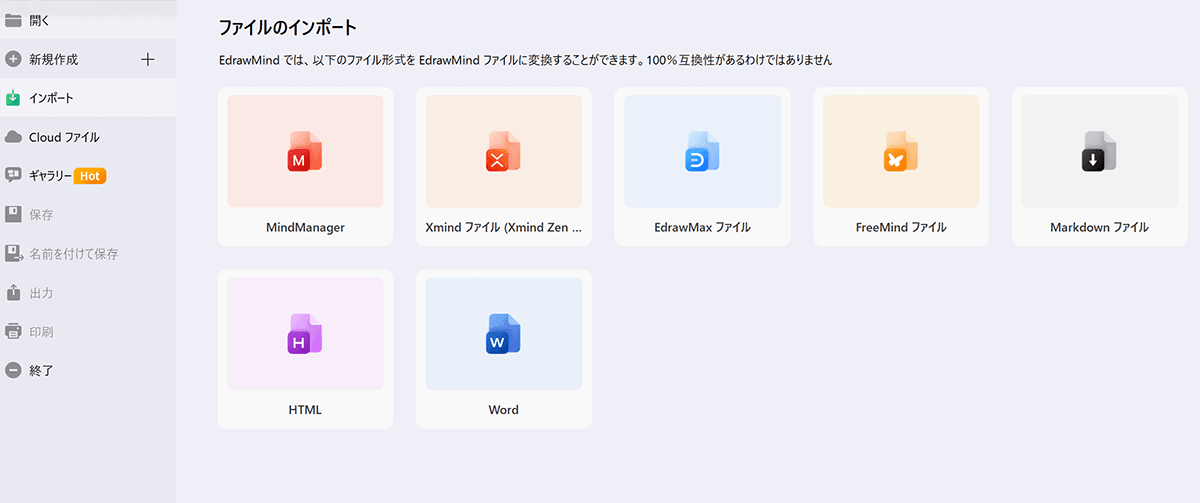 FreeMind and XMind and MindManager formats are supported. Easy migration!
EdrawMind imports multi-line text input, Markdown
You can import markdown. There is also a feature called Multiple Topics, which allows you to create a mind map by copying and pasting multiple lines of text.
EdrawMind supports exporting SVG, Html, etc.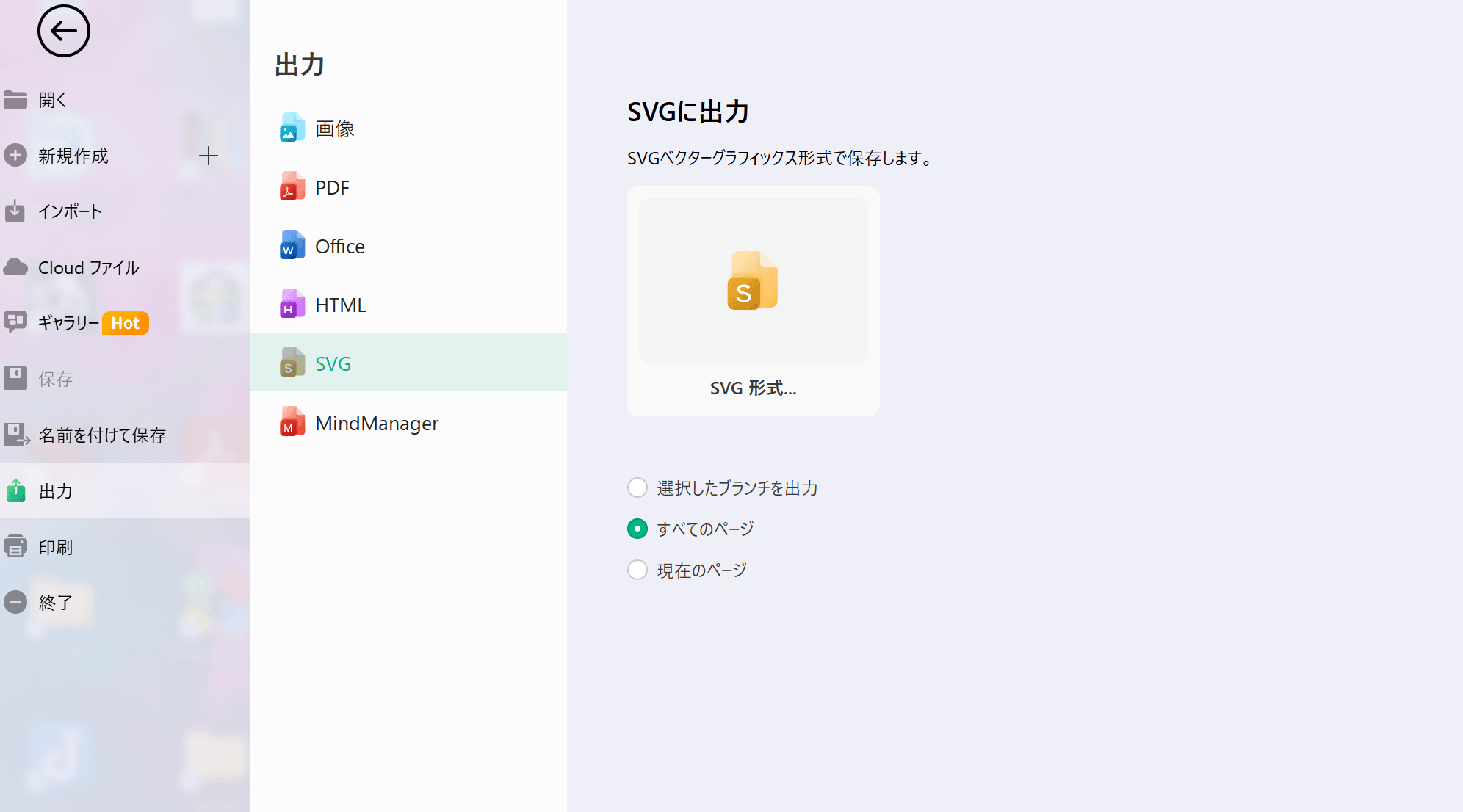 There are many mind mapping software that cannot be exported as SVG.
EdrawMind can be exported as SVG, so it can be used with graphics software.
However, EdrawMind does not export to Freemind, Markdown, or text formats. This is somewhat disappointing.
EdrawMind has a wide variety of color settings, including rainbow colors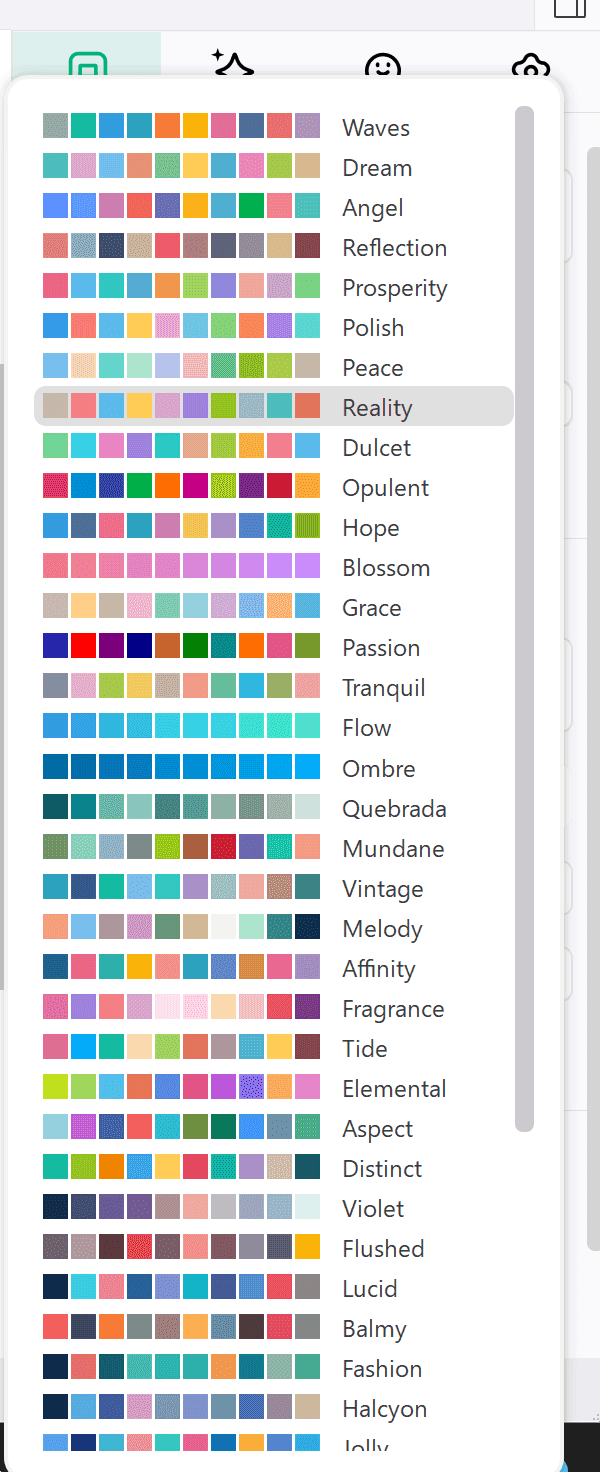 To make a stylish mind map, I realized that the rainbow color setting of the paid version is essential.
There are many color settings available.
Individual RGB color settings are also available.
RGB can also be specified, so you can be particular about color selection.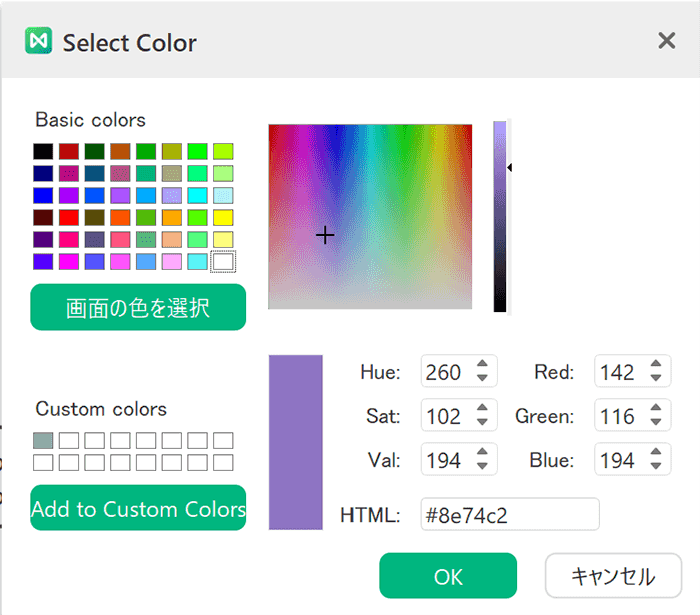 Further gradations are also possible.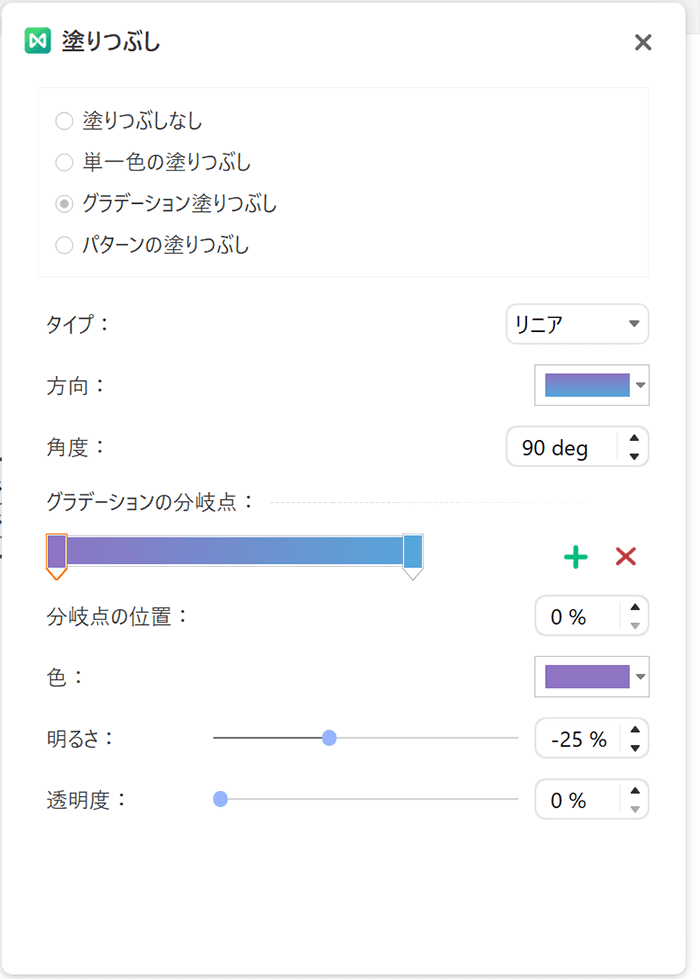 EdrawMind can be changed to various mind map layouts and shapes
Layouts can be switched with a single button.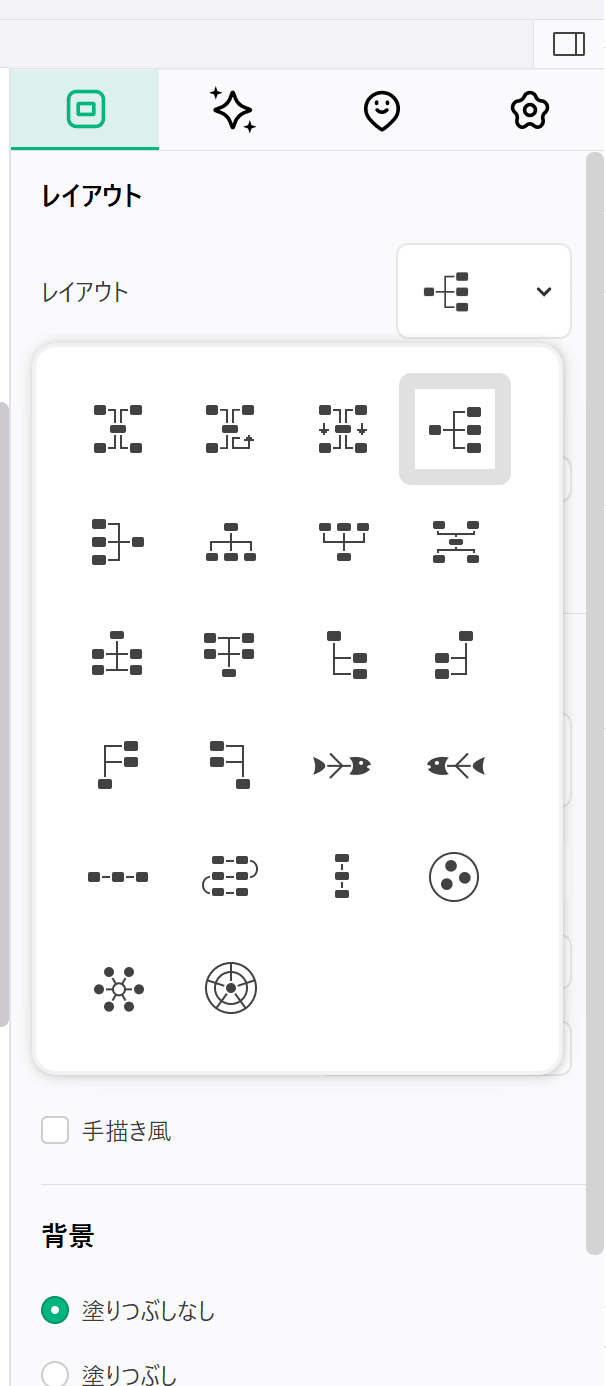 The shape of the branch can also be changed.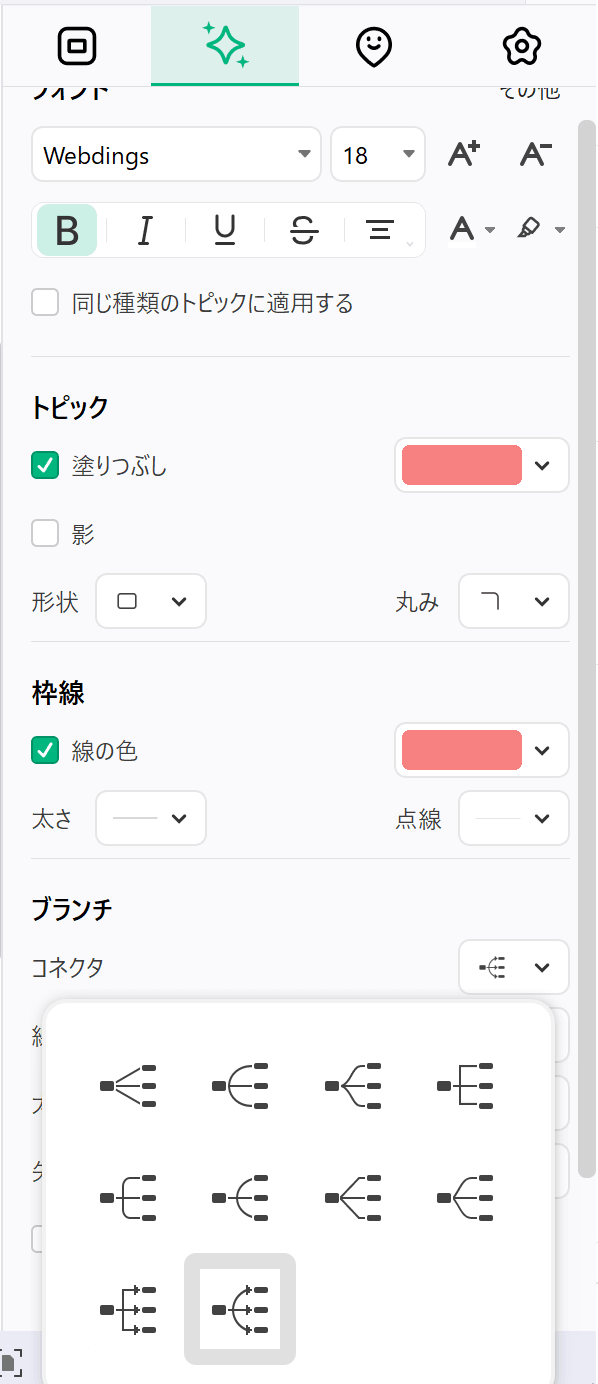 The shape of the square can also be changed.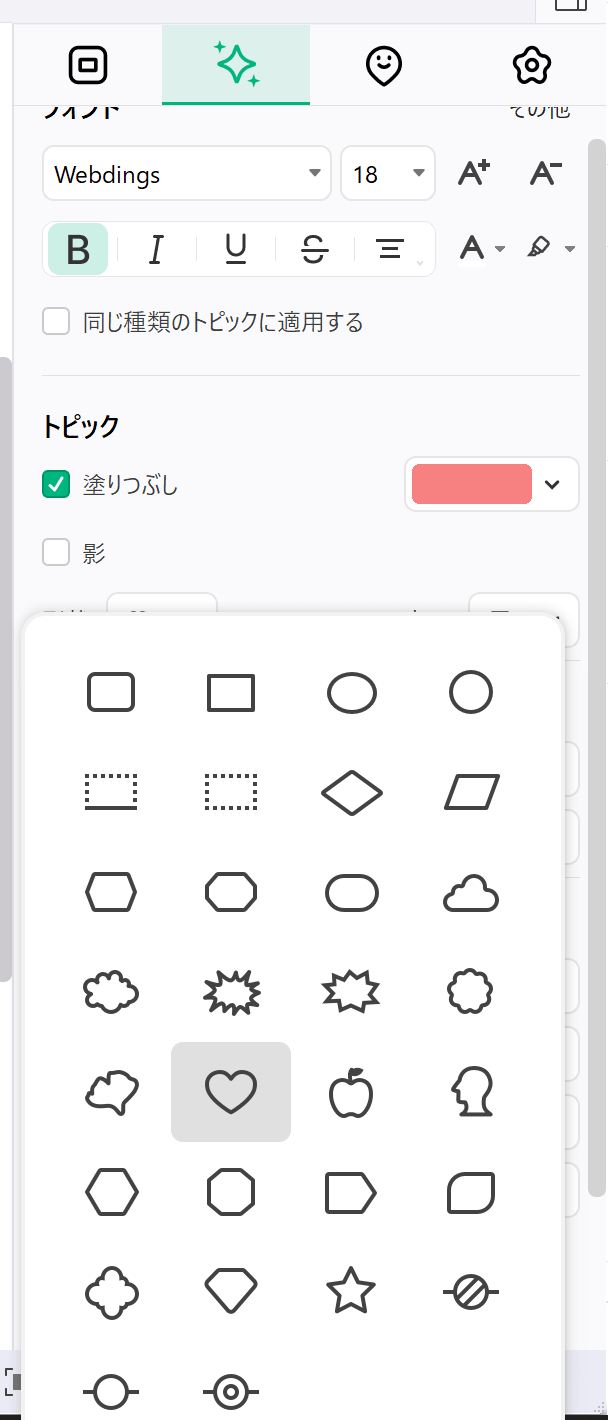 In addition, callouts and related lines can be added.
EdrawMind can insert icons.
There are also many icons.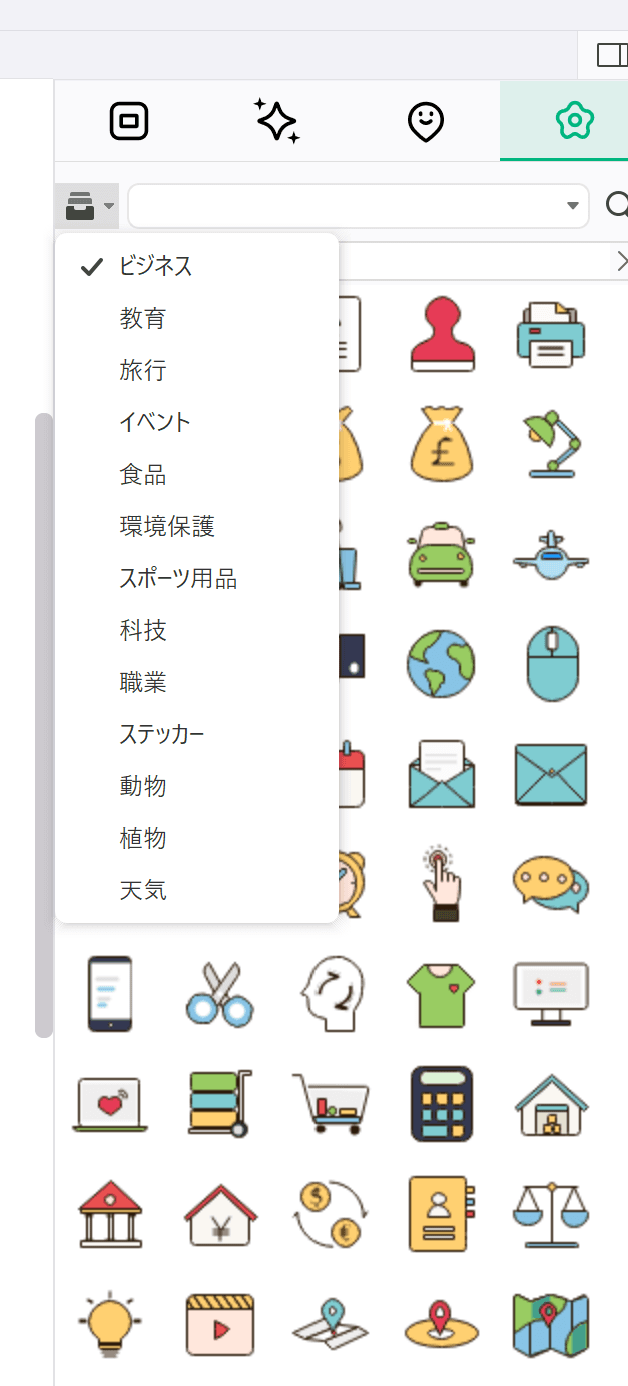 In addition to the regular icons, there are also EdrawMind-specific icons.
If you want to add your original icon, you can insert it in a PNG or other format.
EdrawMind's search and replace function
EdrawMind's search and replace function.
You can use search and replace in either Outliner mode or Mind Map mode.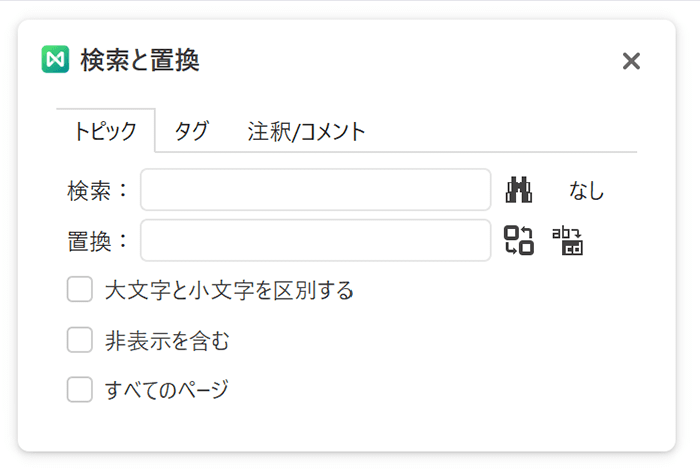 EdrawMind